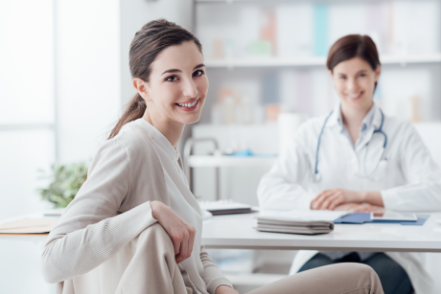 What Are the Side Effects of the Abortion Pill?
You've heard those commercials where they quickly run through the side effects of a drug at the end, right? Sometimes the list of possible side effects sounds longer than the health benefits. 
You should know the potential risks before you take any drug, and a drug manufacturer is required to tell you. Before taking the abortion pill, make sure you're aware of the possible side effects and risks.  
The Abortion Pill Method
The abortion pill is a method of medical abortion. It uses two powerful drugs, rather than surgery, to terminate a pregnancy. 
Every pregnancy needs a hormone called progesterone to grow and thrive. The first drug in the abortion pill method blocks the uterus from absorbing progesterone which means the fetus can no longer survive. The second drug causes bleeding and contractions to expel the fetus from the woman's body. 
Experts recommend not using the abortion pill method if you've been pregnant longer than 10 weeks because of serious health risks. 
Side Effects and Risks of the Abortion Pill
According to the Mayo Clinic, you'll experience a lot of vaginal bleeding and severe cramping with the abortion pill. Since the abortion pill method is completed at home, you should have medical oversight. You need to know if the amount of blood you're seeing or the pain you're feeling is normal, or if you should go to the ER.
In addition, you may experience:
Potential risks include:
Incomplete abortion, which may need to be followed by surgical abortion

An ongoing unwanted pregnancy if the procedure doesn't work

Heavy and prolonged bleeding

Infection

Fever

Digestive system discomfort
Before Taking the Abortion Pill
Are you confident you know how far along your pregnancy is? There's a possibility you could have had a miscarriage. The Mayo Clinic says up to 20% of known pregnancies end in a miscarriage. 
The best way to determine the number of weeks you've been pregnant or if you've miscarried is to get an ultrasound. Come to First Concern Pregnancy Resource Center for a no-cost and confidential pregnancy test. If it's positive, we'll refer you to a clinic in our community that can provide you with an ultrasound for no cost.
Be Confident In Your Decision 
We want you to have as much information as you need before you make a decision about your pregnancy. Contact us first. We'll provide you with information about your abortion options and others.
Plus, we'll give you a no-cost pregnancy test and ultrasound referral if the test is positive. Schedule an appointment with us today. Our first concern is you. How can we help you?